by
Camilla Hawthorne
Jennifer Lynn Kelly
This special issue seeks to conceptualize connections between border regimes around the world. Taking up sites that range from US/Mexico, to the Mediterranean, to Palestine/Israel, and beyond, contributors move past superficial comparisons and think through the circulation of technologies, expertise, policing, and surveillance alongside the circulation of anti-colonial strategies via transnational social movements. By bridging conversations that are typically kept in separate academic silos—for example, critical refugee studies, Asian American studies, Black studies, Native studies, Middle East studies, European critical migration studies, comparative colonial studies—these pieces produce theoretically rigorous and empirically grounded investigations of borders outside of what is typically understood as belonging to the field of border studies. This approach emerges from an understanding that the urgent challenges of our current moment as they relate to borders, migration, and displacement require creative approaches that actively trouble disciplinary boundaries.
Cover design by Elizabeth Elsas Mandel

Cover art by Janina Arianna Larenas
Borders Are Obsolete Part II: Reflections on Central American Caravans and Mediterranean Crossings

Intro to ed board member @Eric_A_Stanley's new book! https://t.co/ijQPCtxg8e

Links to materials here: https://t.co/Lldud5WnGT https://t.co/sCxiWIWAl2

Racial capitalism teach-in TODAY at 4 with ed board member Tiffany Willoughby-Herard https://t.co/pXqbUiFjJ2

Check out the intro to CES Editorial Board Member @Ranamaria 's new book!! https://t.co/3wbrsKYVTl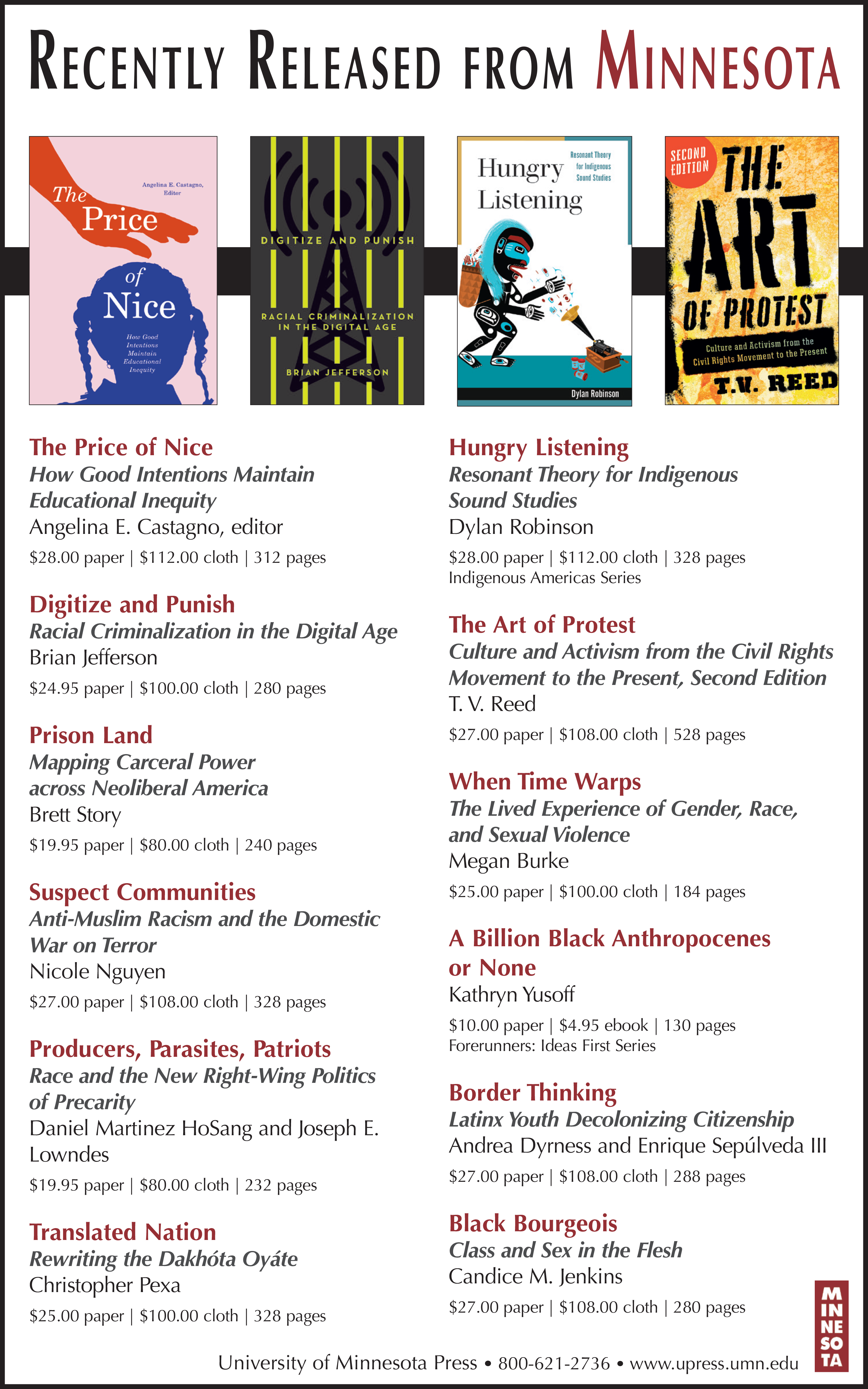 restrictions

All rights reserved. With the exception of fair use, no part of this publication may be reproduced, stored in a retrieval system, or transmitted, in any form or by any means, electronic, mechanical, photocopying, recording, or otherwise, without a license or authorization from the Copyright Clearance Center (CCC), or the prior written permission of the University of Minnesota Press.
issn

2373-504X

publisher

University of Minnesota Press

publisher place

Minneapolis, MN

rights

Copyright 2021 by the Critical Ethnic Studies Association

rights holder

Critical Ethnic Studies Association

doi